Spell, a loved and internationally recognised local brand, has come a long way since its humble beginnings. The founders of Spell, sisters Isabella (nicknamed Spell) and Elizabeth, began selling handmade jewellery and clothing at the Byron Bay markets. From there, the bohemian brand gained traction and took off.
A far cry from the 4×4 market tent, the Byron Bay boutique at 15 Browning Street is mix of new and old, natural and manmade, the striking space embodies the carefree, gypsy character Spell is known and loved for.
Watch the Spell Boutique Tour video on YouTube.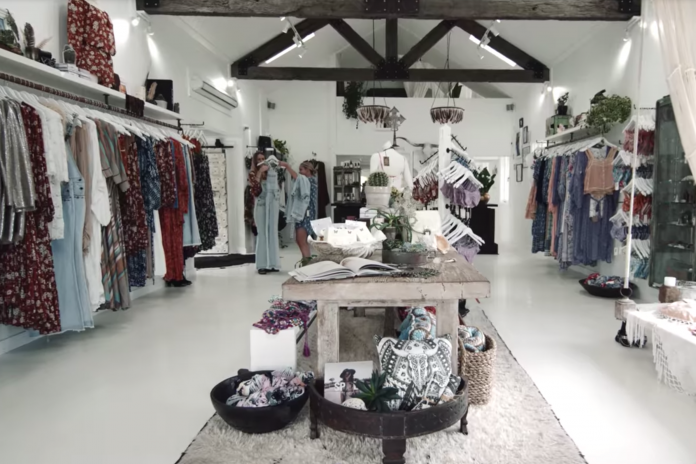 The store's arbours are made from timber reclaimed from the old Bangalow Bridge – an authentic nod to the history of the Byron region. Alongside the antler light, new hoop lamps adorned with feathers add a DIY element to the space. And, a small kids play area was included to give mums peace-of-mind as they shop.
Finally, a secluded mezzanine level provides shoppers looking for a little more privacy a place to try on Spell's clothing. This unique shopping experience was designed to make customers feel right at home, as if they were in their own bedroom.
Many of Spell's loyal customers experience the brand online – whether that be through their active social media accounts, their popular blog, or their online store. The new boutique gives shoppers a tangible experience of the brand, something real and authentic in the heart of Byron Bay.