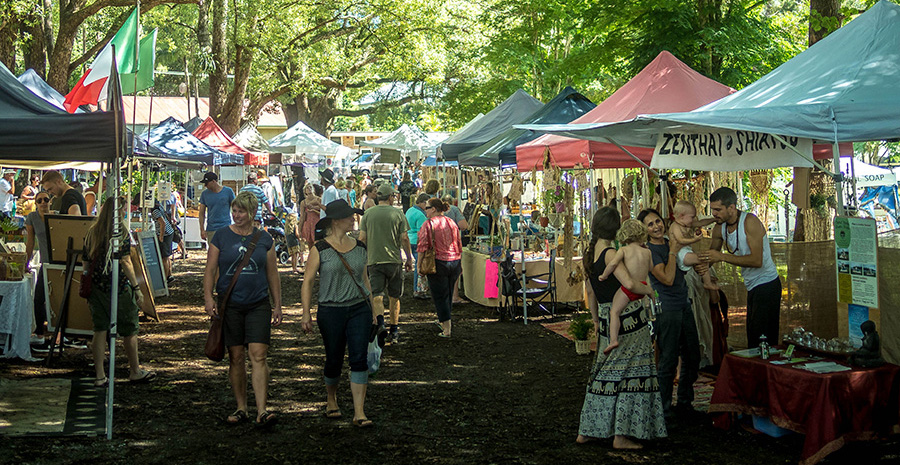 Bangalow Markets
Set below the shade of the camphor laurel and fig trees, the Bangalow markets are some of the best on the North Coast. Bangalow is a small, historical town about 20 minutes south-west of Byron Bay. The picturesque streets are lined with nineteenth-century buildings that house boutique shops, quality restaurants, and gourmet cafes. Check these out before you leave! Behind the primary school is the Bangalow Showgrounds (where market parking is available), and adjacent to these are the Bangalow markets.
On the fourth Sunday of each month, the showgrounds fill with over 300 stalls, and people from near and far are drawn to the town to enjoy the unique atmosphere. The store holders, some of which are unchanged since the markets beginnings in 1982, provide a huge variety of artisan products such as ceramics and woodwork, fresh produce and baked goods, and delicious food and coffee. There are also many stalls that stock imported clothing and jewellery.
Beneath the canopy of the huge trees, there is also live entertainment performed by local talent. Sitting on the roots of the fig trees, drinking a hot coffee, and enjoying the music is an experience unique to the Bangalow Markets.
Each month, a percentage of the Bangalow Market profits are given to community groups and charities. The markets are now run by the Bangalow Park Trust, who care for and maintain the luscious market grounds and parking area. The incredible location and atmosphere of the Bangalow Markets has been key to the market's long-term success.