Bangalow is a picturesque town combining a traditional streetscape with modern appeal. The main street is a pleasure to stroll along, filled with opportunities to indulge in excellent local food and boutique shopping. Located in the gentle hills of the Northern Rivers, Bangalow is 16km or a 20-minute scenic drive from Byron Bay.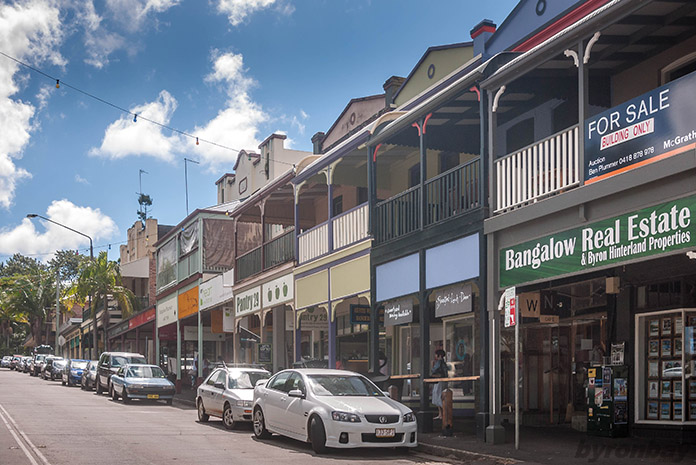 Although a camp was established in Bangalow as early as the 1840's to house timber cutters it wasn't until the 1880's that the town was founded. The name Bangalow is thought to be a derivative of the Banjalang Aboriginal word "Bangalla" meaning 'a low hill' or 'a kind of palm tree'.
Bangalow is known as a pretty town with lovely parks, intriguing shops and high quality cafes and restaurants. The historical architecture of the federation buildings give a warm ambiance to the town while the surrounding landscape consists of fertile countryside. From these surrounds macadamia nuts, fruits and vegetables, coffee, dairy and meat are all produced. It is well worth a drive to explore the hinterland, home to quaint villages and hidden culinary gems.
The town consists primarily of a main street with the Bangalow Hotel at the top end and the Bangalow Showground and A&I Hall at the bottom of the gently sloping landscape.
Festival and Events in Bangalow
Bangalow Show
A traditional Agricultural show with a modern twist the Bangalow Show is held in November each year. Including poultry, show jumping, horses, cattle and all the usual cakes and preserves the show is a firm favourite with both locals and visitors.
Bangalow Music Festival
A unique music festival showcasing the best national and international chamber and orchestral musicians. Held in August The Bangalow Music Festival is presented by the Southern Cross Soloists.
Bangalow Markets
The Bangalow market is held on the 4th Sunday of each month in the very pretty shady grounds near the A&I Hall at the lower end of town. Plenty of parking is available as well as a quality selection of local arts and crafts and produce.
Farmers Markets
Bangalow Farmers market is held every Saturday from 8am to 11am behind the Bangalow Hotel at the top end of town. Well worth a visit to sample some of the amazing fresh local produce.
Sample Food Festival
The Sample Food Festival is a wonderful opportunity to try some of the delicious offerings from local cafes, restaurants and food producers all in one magical location. Hosted on the first Saturday in September in the Bangalow showground.
Billy Cart Derby
The annual Billy cart Derby is a hoot for all ages young and old. Homemade billy carts are raced down the gently sloping main street of Bangalow while the crowds roar encouragement from the sidelines. Held in May it's a great family day out in Bangalow. Stay for lunch and celebrate the winners into the evening.
Bangalow BBQ and Bluegrass Festival
A fun and delicious festival for the whole family with great music, BBQ competitions in all categories including chicken, ribs, pork, beef and whole hog. Also hosts the hugely entertaining and popular Old Time Variety Show. This is a charity event held annually in August.
Attractions in Bangalow
A&I Hall
The Bangalow Hall was originally used as the A&I show pavilion. After a complete restoration from 1991 to 1994 the hall has become the cultural centre of Bangalow. It is used to host a myriad of cultural and entertainment events including comedy shows, live music and specialty markets.
Abracadabra
Abracadabra is a wonderful store offering a huge variety of items for sale. The store is legendary in Bangalow and has been a source of fun and excitement in the town since 1973. From clothes to model cars, from fairies to throw rugs Abracadabra has it all. Here are some of the words used to describe the Abracadabra experience, "exciting, fun, colourful, mythical, spiritual, practical, earthy". Not to mention friendly staff and great service.
Bangalow Parklands
Located adjacent to the Bangalow Museum and Tearooms the Bangalow Parklands is a large shady park encompassing Byron Creek and the Bangalow Weir. Picnic tables, barbeques, amenity block, playground and ample parking make this a perfect spot to play and relax with family and friends.
Bangalow Show Grounds
A charming shaded area with lovely old Camphor laurel trees. The Bangalow Showground is the home of the Bangalow markets, The Bangalow Show and the A&I Hall. It is also a lovely place for weddings and special events.
Bangalow Bowling Club
The Bangalow Bowling Club, or "The Bowlo" as it is affectionately known is a friendly club where the whole family can have a relaxing time, enjoy some music, refreshments and good food.
Facts and Figures
Founded: 1880's
Bangalow Postcode: 2479
Population: 2021
Name Origin: The name Bangalow is thought to be a derivative of the Banjalang Aboriginal word "Bangalla" meaning 'a low hill' or 'a kind of palm tree'. The town was known as Bangaloe until 1907, after which the current spelling came into use.
Climate: Warm and temperate. Average of 19.8 C
Nearby Towns: Byron Bay, Mullumbimby, Federal, Clunes, Ballina
Distance from Byron Bay: 16km, 20-minute drive
Nightlife: Bangalow Hotel, Bangalow Bowling Club, A&I Hall, Restaurants
Frequently Asked Questions or FAQ's
Where are the Bangalow markets?
The Bangalow markets are held in the Bangalow Showground at the end of Market St
Where is Bangalow in NSW?
Bangalow is located in the north east of New South Wales in the Northern Rivers region. Bangalow is a part of the Byron Shire.
Where is Bangalow in Australia?
Bangalow is located on the east coast of Australia in northern New South Wales.
Where to eat in Bangalow?
You are spoilt for choice with food options in Bangalow. Just to mention a few, Butcher Baker Café (specialising in meat, bread and beer), Stock Pot Kitchen located in the Bangalow Bowling Club (southern inspired menu), the Italian Diner (fresh seafood and local produce) and TOWN restaurant and café (Vegetarian and Vegan options available).
What to do in Bangalow?
Peruse the offerings of talented locals at the Bangalow Markets, pick up some fresh local produce at the Farmers Market, pack a picnic and relax under a shady tree in the Bangalow Parklands, grab a quick bite in a local café or celebrate a special occasion at one of the fine dining restaurants, do some shopping and indulge in the abundance of interesting and unique shops, visit the fun and colourful Abracadabra, head in to The Bowling Club for some great entertainment, explore the beautiful hinterland or come and stay during one of Bangalow's great festivals.
What is Bangalow known for?
Bangalow is known for its beauty, independent boutique stores and top quality restaurants and cafes. The surrounding hinterland including the village of Federal is also very popular.
What is Bangalow like?
Bangalow is a small charming town surrounded by lush green countryside and only 20 minutes from the beautiful beaches of Byron Bay.
What does Bangalow mean?
The name Bangalow is thought to be a derivative of the Banjalang Aboriginal word "Bangalla" meaning 'a low hill' or 'a kind of palm tree'.
How far is Bangalow from Brisbane?
Bangalow is 166km from Brisbane, about a 2 hours and 20 minutes drive via the M1.
How far is Bangalow from Byron Bay?
Bangalow is 16km from Byron Bay, about a 20-minute drive.
How to pronounce Bangalow?
Ban-ga-low.